Services
At Al Assriya Printing Press Publishing & Distribution Company we offer a wide array of services including graphic design, editing, typesetting, high quality scanning, sheet fed offset printing, automated binding, finishing & distribution.
Pre-Press Facility
A full team of highly trained staff, graphic equipment and software are available to process client jobs and projects in order for full print preparation and pre-press services. Our team is dedicated to offer creative and innovative solutions to design and pre press requirements.
Press Facility
The Press Facility at Al Assriya includes state-of-the-art machinery and equipment including Heidelberg, Komori & Koenig and Baur Rapida offering the following technical features and specifications:
4 - 8 color printing
Format up to 70 X 100 cm
Computerized control registration, inking & dampening
Automatic plate change.
Our equipment features allow for efficient job handling in reduced time frames and increased quality, all leading to our unmatched job turnover at Al Assriya. There is a new addition to offset printing of the work and banners' fixing on latest digital machines.
Our team of graphic designers is highly trained to use a wide range of programs and applications including Adobe Photo-shop, Macro-media Freehand, Adobe InDesign, Quark Xpress, Adobe Illustrator, in addition to processing post scripts and PDFs.
Speedmaster SM 102 Excels in Terms of Productivity and Quality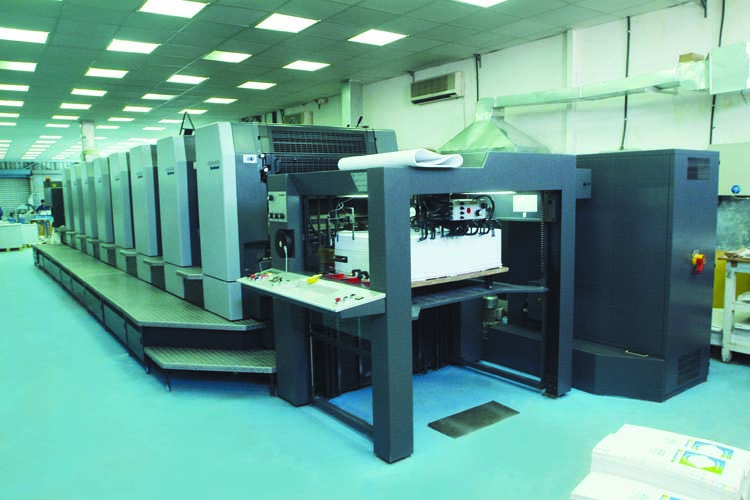 Prinect Press Center high performance control station
Sheetfed Control the patented, decentralized control platform from Heidelberg
Highly automated Pre-set Plus Feeder and Pre-set Plus Delivery
Prinect Inpress Control, the spectrophotometric in-line measuring and control system for color and register
Central delivery control panel with touch screen and jog wheel
System of peripherals perfectly coordinated with the press
The ideal choice for high-end applications is the Speedmaster SM 102 with the fully automated Preset Plus Feeder and Preset Plus Delivery developed with the high-performance Prinect Press Center. Additional devices such as the CutStar sheeter and the in-line measuring and control system Prinect Inpress Control make the Speedmaster SM 102 even more productive.
Large spectrum of printing stock that can be processed on the Speedmaster SM 102. The customer had high demands, because they print a very wide range of printing stocks - from lightweight paper with 65 gsm up to cardboard with 400 gsm. They also have frequent job changes. With a printing speed of around 12,000 sheets per hour in perfecting, the SM 102 passed the test and far exceeded the customer's expectations.
Design

With our design team hard at work we help design the best flyer possible to give you the best chance of gaining new custom.
Having the right flyer design for your business is crucial when looking to carry out a marketing campaign. It can make the difference between a successful and unsuccessful campaign, so worth investing to get it right the first time. Check out our Contact page for more details.
Printing
Looking for a professional and efficient printing company in Kuwait? Then look no further. Al-Assriya offer a printing service that you can rely on. The only requirements that we need is that you either provide us with the artwork in PDF format, or our design team will create one for you. If you do need help with your artwork, then please refer to our design page.
Here at Al-Assriya we ensure to have a close working relationship with our clients and to ensure that you're provided with high quality printed flyers or business cards that will give you the ability to make that great impression. distribution is a highly effective promotional and marketing method - but it doesn't matter how successful your design or distribution is, if your isn't eye catching or high quality, your has a high chance of getting dismissed.
Here at Al-Assriya, we provide professional, full-colour printing. Single or double sided. Gloss or Silk finish...we cater for your every need.
PRINT MADE SIMPLE
After your designs have been finalised, make sure that your printing service doesn't let you down - present your photos and illustrations how they're meant to be seen.
At Assriya we have an extensive range of sizes and finishes for you to choose from so you can be sure your leaflets, flyers or business cards will look great. We also have several print options available as well to meet any requirement, no matter what your budget.
Our leaflet and flyer printing is ideal for showcasing your products and services, and we consistently deliver impressive leaflet printing results capable of extending any business's market reach.